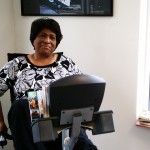 Brenda is a patient at TheraSport Physical Therapy – Summerfield.  After a knee replacement, she had home health therapy and chose to continue physical therapy at TheraSport because it was close to home. Brenda works with Diana Rizza, PT, Amy Lynch, MPT, and Darlene Page.  Here is Brenda's story, in her own words:
How would you describe your experience with physical therapy at TheraSport?
The people are nice, you get a good workout, and when I leave, I feel rejuvenated!  The atmosphere is good — they are pleasing, nice, and kind.  Nobody rushes you; they help you through your exercises, and they are always very helpful.  I'm working on strengthening and loosening my knee.  [The therapists] really work my leg and stretch it.  But no pain, no gain!  They help me get to where I need to be.  I really love it!

You also make friends here.  Everyone has a story to tell.  Melodie is my soulmate at TheraSport!  She encouraged me, because she had the same operation.  We shared recipes.  You're not in it along [at Therasport].  We all encourage each other.  I'm glad I came here!
What are your goals for the rest of your physical therapy treatment?
I am working on going up steps.  I haven't been able to sing in the choir at church.  I want to be able to walk and stand for long periods of time.  It's going to take some work, but I'll get there.
Do you have a physical therapy story?  Share it here!