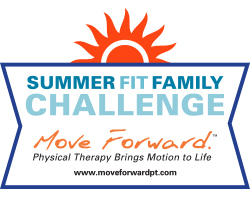 The "Summer Fit Family Challenge," brought to you by American Physical Therapy Association and its Section on Pediatrics, aims to help children and families stay active together this summer.
Take the Challenge
Download and post the Summer Fit Family Challenge checklist (.pdf)  on your refrigerator.
Share your family's checklist progress (and photos) on Twitter, Facebook and/or Instagram using #FitFam14 for a chance to win our drawings for Fitbit actvity wristbands.
Challenge lasts from June 9 until September 1, 2014.
Move Forward Radio
Pediatric physical therapist therapist Joe Schreiber, PT, PhD, PCS, discusses the benefits of activitiy for children, how the challenge works, and the rewards for participating. Click here to listen to the segment.